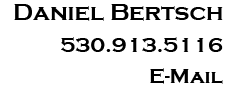 EXPERIENCE YOU CAN COUNT ON:

Certified Inspector, Daniel Bertsch, has been a Licensed General Contractor since 1983 with over 35 years of hands on experience in the building industry.  Daniel is a
Certified Inspector
with CREIA, the California Real Estate Inspection Association and all inspections are performed to the CREIA standards of practice.  Additional certification was obtained with ASHI, the American Society of Home Inspectors by passing the National Home Inspection Exam.  Daniel has been in the Home Inspection industry since 2003 and has performed over 1,300 inspections.
FAST INSPECTION SCHEDULING:
In the time it takes you to read this paragraph you could book a Home Inspection online.  Click on Schedule an inspection, look at our schedule, pick a date, and a time for your inspection that is convenient for you.  The online scheduler will send you confirmation of your order and a reminder the day before the inspection.  Real Estate professionals love our scheduler as it allows them to schedule an inspection 24/7.  This system also remembers all of your information on return visits. Don't hesitate to call if a time or date is not available, we will do our best to accommodate you. 
FAST REPORT DELIVERY:
The Inspection Report is produced and presented on site on the day of inspection.  There is no need to wait 24 hours to receive your report.  The inspector writes the report when it is fresh in his mind, right after the physical inspection.  For a normal sized home the inspection time frame is approximately four hours.  Typically two hours are spent inspecting the property, and two compiling the findings and producing the report.  If possible the client is asked to arrive at the end of the inspection and the Inspector will go over the entire Home Inspection Report in great detail. We are also happy to work with out of town clients.  The report is sent via email, and the Inspector and Client go over the report by phone.  Clients are always encouraged to call the inspector at any time if additional questions come up.  In an effort to reduce use of resources, we prefer to deliver the report via email, however arrangements can be made to print the report on site.
SIMPLE CONCISE REPORT:
No long narratives to wade through to figure out what this issue is.  We don't do check boxes.  Check boxes such as Fair, Poor, Repair, Not Present, don't provide enough information to the home buyer.  Our computer generated report describes clearly:
What the issue is, Where it is located, Action to take, and the Implication of the issue. 
Photos are used to further illustrate many of the findings.  Our clients constantly compliment us on the how easy the report is to understand and how the extensive use of photos really helps clarify the findings.

VIEW SAMPLE REPORT: 
Click on blue hyperlink:
SAMPLE REPORT

LARGE SERVICE AREA: Truckee – Tahoe, Sierra Foothill communities, Sacramento and surrounding communities, Yuba City – Marysville and surrounding communities

Mission Statement:
To surpass our client's expectations by providing a thorough, professional home inspection and a clear, concise inspection report, thereby empowering them to make an informed real estate decision.
Copyright © Omni Home Inspections 2011-2016 All Rights Reserved | site by
descati
Welcome to Omni Home Inspections